Multi-day Wieden & Weerribben tours by Canadian canoe or kayak

Do you feel the urge to get away from stress at home or at work? Go canoeing in Giethoorn National Park Weerribben-Wieden in the area 'Kop van Overijssel', on the most beautiful canoe trips in the Netherlands! Feel connected to nature on the water. Spend the night in a cabin or your own tent along the route.
Itineraries and maps provided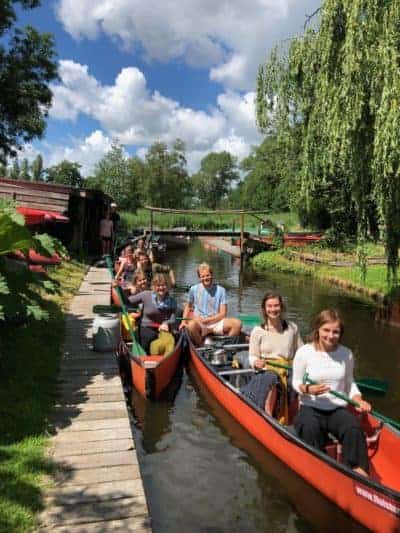 Canoe adventure Kop van Overijssel
3-, 4-, 5-, or 7-day Wieden & Weerribben Tours® by kayak or Canadian canoe with lodging in own 2-pers. tent or 4-pers. cabin on the route.
A. Canoe weekend
3 days through Wieden and/or Weerribben

B. Weerribben-Wiedenroute
Adventure trip in the National Park

C. Weerribben canoe route
4-day canoe trekking, different every day!
D. Canoeing through the Kop
5- or 7-day canoe holiday in your own tent or hikers' cabins

ACCOMMODATION/CARE
You spend the night at campsites in your own hiker's tent (1-2 pers.) or hiker's cabins (1-4 pers.); self-sufficient.
PACKAGE DURATION
A. 3 days/2 nights
B. 3 days/2 nights or 4 days/3 nights
C. 4 days/3 nights
D. 5 days/4 nights and 7 days/6 nights
INCLUDING
Canadian canoe (2-3 pers.) or kayak (1-2 pers.) rental along with instructions, itinerary, maps; watertight tons and bags, splash cover, life jackets; campground fees or cabin rent include use of campground facilities.
Book your canoe holiday here!
Explore Giethoorn and the Weerribben-Wieden National Park with a kayak or Canadian canoe.

A. Canoe weekend
B. Weerribben-Wiedenroute
C. Weerribben canoe route
D. Canoeing through the Kop
CALL US
0031 (0)6 4499 4037
BED & BOOT MOL Groenewegen
Binnenpad 28 NL-8355 BR GIETHOORN
Boat rental opening hours